Like that title? LOL—okay, maybe it's a bit click-baitey. Life moves FAST, and even though I try to document all of the hilarious things my kiddo says (#ConvosWithRico), there are some things that I just don't get the chance to write about. Not all of them are funny, but even the "unfunny" conversations have a way of ending with a laugh. It's just part of how I'm wired, and seemingly, how my son is wired (also, David has a pretty good sense of humor. He's not as funny as he thinks he is, but he has his moments).
I love #Fail videos. Jericho & I have watched Fail videos since I first discovered Fail Army on YouTube. I've loved Fail videos since I first discovered America's Funniest Home Videos (in its first incarnation, and now, as AFV), and I think it's because had there been video cameras as easily accessible when I was a kid, I'm sure I could have gone viral for my own idiocy. I once fell over a trashcan in the middle of Disney World…and I once tripped over a Safety Cone in Northwest Plaza, making my poor mother laugh so hard that she SAT DOWN in the MIDDLE of the MALL because she couldn't walk from laughing. I have a knack for tripping and falling, and it really hasn't gotten that much better in my adulthood. In fact, if I were to keep writing about all of my klutzy adventures, I wouldn't stop typing until December. I'm that graceful.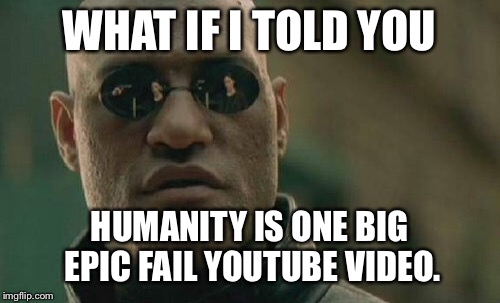 So, my lack of coordination and/or general lack of observance has made me fodder for Fail videos my entire life, and if I can laugh at myself when I fall down, I think I have the right to laugh at videos of other people doing the same thing, as long as no one is bleeding.
Generally, we'll watch montages of Fail videos and they'll involve things like snowboarding, or stairs, or falling off of porches—all things your Average Joe-Jane can do with aplomb. Sometimes these videos clearly involve alcohol, and this has involved moments of Adam Sandler-inspired parenting:  "Alcohol = puke = smelly mess = Nobody Likes You." It's a classic quote, and has served me well in both reminders and in education, about the perils of booze. And let's face it—Mr. Sandler knew what he was saying. I think anyone can point a finger and preach to someone about alcohol, but how much of that actually sticks? I've never, ever forgotten that scene in that movie, and it's lasted in my brain far longer than any sermon on the topic.
I have a fear of my son taking things like alcohol way too lightly.
He's 8. Alcohol and drugs are far too commonplace in society, either in billboards or commercials, or in news stories, or in random conversations. Addictive behaviors present pretty early on, and I have to wonder if we intervene with a healthy presentation about what addiction is, and how it can change your life, at this age? Do we stoke curiosity, or do we lay a foundation of preparation?
I joke about being addicted to chocolate (I totally am), or that he's addicted to his tablet or to YouTube (curse you, YouTube. I rue the day I let you into my house!!!!!!); we talk about how Jesus breaks addictions, and how it's good to talk to Him about these things.
Fail videos often show cups of beer or obviously inebriated people, doing really dumb stuff. It's an easy conversation starter along those Adam Sandler lines: "Alcohol = Fall down and look like an idiot, and get made fun of by the entire world = Never goes away in Cyberspace." We talk about actions having permanent consequences. Drunk people doing dumb things have enabled me to have gentle conversations with my son about feelings of abandonment and sadness, because someone I loved, loved alcohol more than me…Nothing good comes from the abuse of alcohol or drugs, and it's not the life Jesus wants for us.
I say all of this because this past Sunday, I realized how much of an impact some of these conversations have had—you know, you don't realize what your kids retain until it comes back to haunt you. David was making pork steaks, and he opened up a beer to add to the marinade.  He put half of a beer in with the steaks and he gave me the rest of it to drink (it was a Wicked Orchard Apple Ale from Aldi, and they're delicious. They're also AMAZING to use in beer bread). Jericho looks at me wide-eyed and goes, "MOM!!!!!!! DON'T GET DRUNK AND DO THINGS!!!!"
I laughed so, so hard. Like, snort-laughed. I think he thought that if I drank that half-beer, I would immediately start falling down and being a Fail video star. My son says the funniest things, and he has no filter (much to my chagrin—I have found myself LAUNCHING to intervene after he's said something unintentionally rude or embarrassing), & I know that will tone down as he gets older. I feel like by maintaining the #ConvosWithRico, I've made it where I can retrace every funny thing he's said that I've documented online. It's sentimental—I know these things will decrease as his awareness of the world and his maturity levels increases. He's growing up…and there are so many building blocks I want to lay out for him as he's on his way.
Some things are too heavy for him to understand, and I worry that the world will throw them at him too soon. Corrie Ten Boom has a marvelous quote in her book, The Hiding Place, that I'm often reminded of when I'm faced with a Big Topic:
'And so seated next to my father in the train compartment, I suddenly asked, "Father, what is sexsin?" He turned to look at me, as he always did when answering a question, but to my surprise he said nothing. At last he stood up, lifted his traveling case off the floor and set it on the floor. Will you carry it off the train, Corrie?" he said. I stood up and tugged at it. It was crammed with the watches and spare parts he had purchased that morning.
"It's too heavy," I said.
"Yes," he said, "and it would be a pretty poor father who would ask his little girl to carry such a load. It's the same way, Corrie, with knowledge. Some knowledge is too heavy for children. When you are older and stronger, you can bear it. For now you must trust me to carry it for you".'
The world wants our kids to grow up way too soon. Conversations about sex, desire, gender roles, drugs, alcohol, etc., are heavy topics, and they're not meant to bear the weight of them too soon. It's our job as parents to determine the when and the how of those conversations (and not the schools, although they've taken it on as parents are often too naïve or too inattentive to do so). When certain conversations become unavoidable (it's astounding how much alcohol and drug advertising there is, or how much it sneaks into family programming or cartoons. Beer billboards are a dime-a-dozen in this city–go figure), I try to make them relatable or in kid-friendly terms. Because of my paternal family history, I know that addictive tendencies run deep, so I want my son to understand how dangerous these things are. I want him to know there are consequences and that Jesus offers both freedom, and a better way.
Our conversation on Sunday went from me laughing, to a gentle explanation of the concept I quoted earlier: "Everything in moderation." Jericho brought it up again yesterday in a conversation about cigarettes (SO. MUCH. LITTERING.) & I rephrased my quote to, "everything in moderation…except cigarettes & drugs. Those are a Hard NO." I'll probably repeat that to him countless times as he grows up and faces the world. I hope & pray that David & I are building a foundation with him that will keep him protected from things like being drunk and doing stupid things (and worse). I hope that these gentle conversations that start with laughter still impact his heart, and that the concepts of love, truth, and purity stay with his spirit as he grows…Maybe I'm not taking the most conventional approach? I don't know…I feel like preaching things "at" him will only push him to rebel, but that being honest about the good, the bad, the idiotic, and the ugly, will help him understand & to respect the dangers that are out there. Kids are going to grow up and make their own decisions…I want to raise this child to make Good Decisions, grounded in faith, with wisdom and intelligence. Maybe we set him on this path with a big dose of faith coupled with love and a sense of humor, to gird him for the journey…